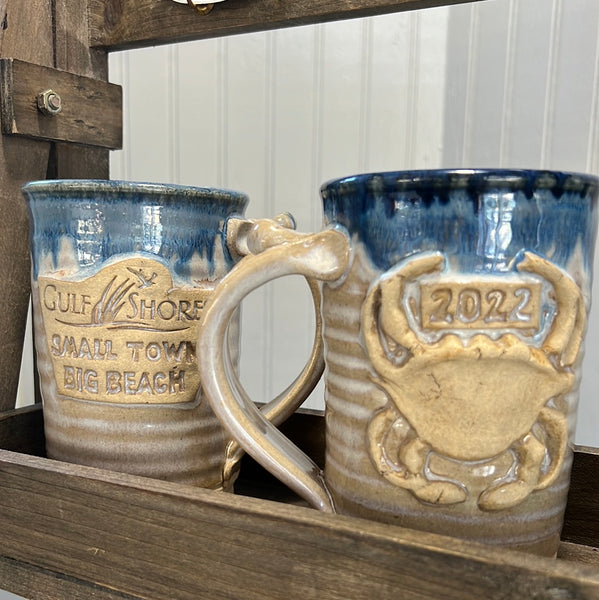 2022 Limited Edition Mug- Crab
The 2022 Limited Edition Holiday Mug is the perfect one of a kind gift this Holiday Season.  Only 50 available!  Each Limited Edition Christmas Mug is numbered and dated and features our Small Town Big Beach logo on one side and a crab on the opposite side.
Sip on your favorite morning beverage with these custom, handmade Coffee Mugs from Sea Oat Studio!
"Not only are you acquiring a piece of pottery, but acquiring a piece of Alabama!" - Steve Burrow
The clay used is a blend processed by Sea Oat Studio. It's processed in house and fired to 2400 degrees in their electric kiln and the wood-fired kiln built completely out of recycled materials.  
Lead-Free

Microwave, Dishwasher (top rack only), & Oven-Safe!

Suitable for Daily Use
About Sea Oat Studio :  Steve & Dee Burrow are Sea Oat Studio!  Steve & Dee work as full-time studio potters in the house and studio they built themselves in Gulf Shores, Alabama.  Steve & Dee love the ocean and the images and colors there are a main source of inspiration invoked in their work.
Their work can be seen in galleries and art shows along Florida, Alabama & Mississippi's Gulf Coasts, in Eleuthera the Bahamas, or in their Studio & Gallery.
Disclaimer : All Pottery is very similar but custom, meaning there will be variations in every mug.  All are unique in their own way!